Taking a new approach to the mid-weight category, Kawasaki has unveiled the Ninja 650 for the 2017 model year, a twin cylinder, water-cooled machine targeting a wide spectrum of potential owners.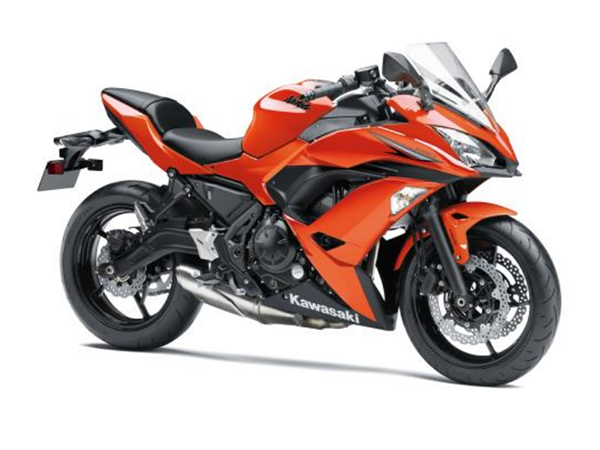 In an evolving market – and with pressures such as Euro4 compliance – Kawasaki designers took the opportunity to assess what the company's extensive European market research was showing producing a machine with undeniable Ninja styling and spirit allied to every-day adaptability.
With outright performance less crucial to potential owners compared to usability across a number of riding scenarios, the 69PS engine has been tuned for excellent low to mid-range urge while the entire package offers a riding environment that will appeal to those looking for their first mid-weight, those trading down from a larger machine and riders with skill levels from novice to experienced.
Developed from the well-respected ER series unit, the Ninja 650 engine delivers instant response and performance with the benefit of 6.8% better fuel economy. And utilising a new trellis type chassis redolent of the Ninja H2 plus a gull style aluminum swinging-arm, the latest mid-weight Ninja boasts not just good looks but a chassis weight reduction of an impressive 19kg.
Recognising that the rider environment is crucial, the Ninja 650 comes equipped with an adjustable shift up light plus a rev counter needle that glows red when the next gear should be selected, a digital gear indicator and even an ambient temperature read-out.
Rounding off an impressive chassis specification, new style Nissin calipers deliver exceptional and controllable ABS equipped stopping power while adjustable horizontal link rear suspension similar to that of the Ninja ZX-10R maintains the Ninja family reputation for seamless controllable handling characteristics.
A2 compliant – with a 35kw power restrictor kit fitted – the Ninja 650 will answer the needs of those seeking to enter the mid-weight arena while at the same time delivering weekend sports riding and weekday commuting possibilities thanks to an ergonomically tuned riding position.
Proving that as the market evolves so does the Ninja family, Kawasaki Motors Europe is optimistic that this new direction in the mid-weight class, and new style of Ninja, will become a hit with riders across the continent.