Bike Hire

Motorcycles Direct specialise in the hire, sales, servicing and repairs of motorcycles and have won national awards for our levels of customer service. Our hire range includes models from various 125cc manufacturers.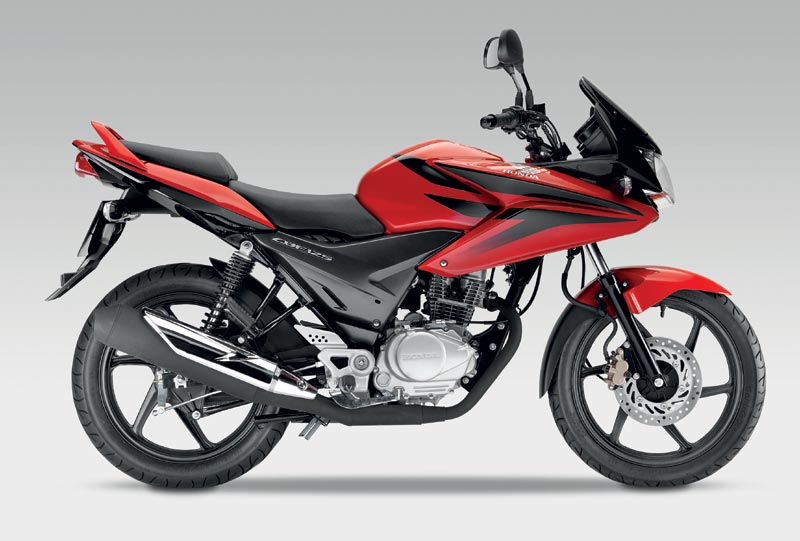 Our current model of choice is the Honda CBF 125. The CBF125 has established a reputation for comfort, high quality and remarkably low running costs. The front features an attractive half-cowl with a small, tinted windscreen that offers the comfort of wind protection at higher speeds. Raised handlebars and a low seat height make the CBF125 riding position natural and comfortable.
The seat also provides plenty of room for a passenger. The light, responsive chassis is easy to manipulate through traffic and the fuel-injected engine delivers ample power and torque for a ride feel thats both satisfying and confidence-building. Its fuel efficiency is impressive and contributes to the low running costs and minimal environmental impact. Compact convenience and easy, assured handling are combined with big-bike styling and build quality, making the CBF125 a firm favourite with entry riders, commuters and experienced bikers.
We offer motorcycles for hire for a long weekend, weekly or even monthly basis. All of our motorcycle hire prices include fully comprehensive insurance, VAT, road tax, maintenance, servicing and valeting.
Please contact our sales team on 01923 221125 for any further information or to book a motorcycle for hire.
Delivery & Collection Service (Charges apply)
You can make hiring a motorcycle from bikehiredirect.co.uk even easier by taking advantage of our delivery service. Please call the sales team on 01923 221125 for further information or to obtain a quote.
Learner Riders
We have 125cc motorcycles available for hire at all times. This type of hire is especially useful for learners to gain further experience inbetween taking their CBT and full bike test.
TV & Film Bike Hire
We supply motorcycles for TV and film work. For specific model requests, please contact the sales team for further information. Previous clients include BBC, ITV1, ITV2 and location shoots for Girls Aloud.